Hustle, Gravity, Slave score big, but Academy doesn't dig Davis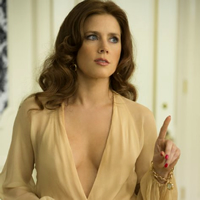 The Academy of Motion Picture Arts and Sciences announced the nominees for their 86th Academy Awards early Thursday morning, recognizing the best films, filmmakers, and on- and off-screen talent of 2013. Three films dominated this year's nominee list, and none of the trio were surprises.
Two films tied atop the leaderboard: David O. Russell's period dramedy American Hustle, and Alfonso Cuarón's breathtaking sci-fi thriller Gravity. Just behind those two films with nine nominations is the drama many experts believe to be the best picture frontrunner: Steve McQueen's 12 Years a Slave. Other films with multiple nominations include Captain Phillips (with 6), Dallas Buyers Club (6), Nebraska (6), Her (5), and The Wolf of Wall Street (5). Surprisingly shut out of major categories was Inside Llewyn Davis; more on that in a moment.
Listed below are the 2014 Academy Award nominees in all 24 categories.
Best picture and director
Best Picture
90
American Hustle
Charles Roven, Richard Suckle, Megan Ellison and Jonathan Gordon, Producers
83
Captain Phillips
Scott Rudin, Dana Brunetti and Michael De Luca, Producers
84
Dallas Buyers Club
Robbie Brenner and Rachel Winter, Producers
96
Gravity
Alfonso Cuarón and David Heyman, Producers
91
Her
Megan Ellison, Spike Jonze and Vincent Landay, Producers
86
Nebraska
Albert Berger and Ron Yerxa, Producers
76
Philomena
Gabrielle Tana, Steve Coogan and Tracey Seaward, Producers
97
12 Years a Slave
Brad Pitt, Dede Gardner, Jeremy Kleiner, Steve McQueen and Anthony Katagas, Producers
75
The Wolf of Wall Street
(credits to be determined)
First, what's missing. The Coen brothers' Inside Llewyn Davis is the most notable omission, having previously received two dozen best picture awards and nominations over the past month, but you'll sense a theme: the Academy neglected to recognize the film in multiple categories (including screenplay, directing, and especially lead actor). Academy voters also apparently didn't see (or like) All Is Lost, as that, too, is missing from multiple categories. Critic favorite Before Midnight is also missing, though that is much less of a surprise. Nearly all of the Academy's best picture selections this year (which hit a total of nine for the third consecutive year) actually fall in the unsurprising category, with most of the bunch known for months. Only British drama Philomena is close to an unexpected inclusion. Voters also managed to avoid the three films that looked most like Oscar bait: August: Osage County (which did pick up a few acting nominations), Lee Daniels' The Butler (shut out), and Saving Mr. Banks (nominated only for its score).
Note that producer Megan Ellison (Her, American Hustle) is the first woman to ever receive two best picture nominations in the same year.
The average Metascore for the nine best picture nominees this year? An astounding 86.4, with the lowest score in the group being a still-high 75. That's what you call a good year.
None of the nominees are surprises—and Cuarón and McQueen are the favorites, as they've been dominating this category during awards season—but that doesn't mean there weren't omissions anyway. (Remember, with nine best picture nominees and only five director selections, a few filmmakers are always going to be left out.) Directors who had a decent chance of landing here but didn't include Golden Globe nominee Paul Greengrass (Captain Phillips), Spike Jonze (Her), and the Coen brothers (Inside Llewyn Davis).
Writing
The Dallas Buyers Club pair of Borten and Wallack are the biggest surprise in both screenplay categories, as that film was all but ignored in previous screenplay awards this year. The others are all familiar names. Spike Jonze has been dominating the original screenplay category on the awards circuit, while John Ridley has been doing the same in the adapted category. Omissions (though never likely nominees to begin with) include Nicole Holofcener for Enough Said, and the Coen brothers.
Woody Allen's writing nomination is the 16th of his career, and Allen is the last person prior to David O. Russell to be nominated for writing in two consecutive years (with Allen's nominations coming in 1977 and 1978). Speaking of Russell, he now has the only two films ever to collect nominations for best picture, director, screenplay, and all four acting categories in the same year; last year's Silver Linings Playbook was the first such film, and American Hustle is the second.
Acting
Now this is a tough field. Cate Blanchett—going for her second Oscar and first in a lead performance—has been cleaning up on the awards circuit this year, but Amy Adams might have some momentum with her Globe win (though Blanchett won one, too). Previous Oscar winner Bullock has a showcase role in Gravity, and Dench and Streep are Dench and Streep. (This is Streep's 18th nomination, by the way; Dench has a mere seven.) Interestingly, the Academy chose to go the veteran route this year, passing on young and relatively unknown actresses (who earned nominations elsewhere) like Brie Larson (Short Term 12) and Adèle Exarchopoulos (Blue Is the Warmest Color).
Oddly, Christian Bale's terrific lead performance in American Hustle has been getting little attention on the awards circuit this year, but it is hard to argue with his presence here (which gives the film a chance to sweep the acting categories), though it probably comes at the expense of Robert Redford (All Is Lost), Tom Hanks (Captain Phillips), and/or Oscar Isaac (Inside Llewyn Davis). Though Chiwetel Ejiofor was probably the runaway favorite as recently as a few weeks ago, fellow first-time Oscar nominee Matthew McConaughey has been gaining momentum, thanks in no small part to his Golden Globe win.
While the five nominees have all been fairly ubiquitous on the awards circuit this year (with awards fairly evenly split between Nyong'o and Lawrence so far), there was a decent chance that Oprah Winfrey would slip in here for The Butler. Note that Lawrence won an Oscar last year (as lead actress); she's the only one of last year's winners in the acting categories who is nominated again this year, and she's the youngest-ever (at 23) three-time Oscar acting nominee. Roberts has been nominated three times before (most recently, winning for Erin Brockovich in 2000), but the other three nominees are first-timers (including the 84-year-old Squibb). Note that Scarlett Johansson, who voices the operating system in Her, was not eligible for the Academy Award, since she never appears on screen.
While fans were hoping for a posthumous nomination for James Gandolfini (Enough Said), the field is pretty much as expected. Jared Leto is the likely favorite, having already collected nearly every supporting actor award handed out this year, though Abdi and Fassbender are also major contenders. On the other hand, Cooper and Hill are the biggest underdogs, with almost no recognition from other groups, though they still beat out other potential nominees like James Franco (Spring Breakers), Will Forte (Nebraska), and Daniel Brühl (Rush). Abdi, Fassbender, and Leto are all first-time Oscar nominees; Cooper was nominated last year, and Hill the year before (for Moneyball).
Other best film nominations
While there may be a sentimental push behind Hayao Miyazaki's final film (The Wind Rises), expect Disney's newest hit Frozen to win here. The little-known Ernest & Celestine, by the way, is a French-Belgian production based on a children's book, and it played the festival circuit (including Cannes and TIFF) though it never screened widely in the U.S.
The documentary field is a strong one this year. Joshua Oppenheimer's The Act of Killing is not just the favorite 2013 documentary among critics; it's one of their favorite films of the year, period. But any of these films can win.
Paolo Sorrentino's The Great Beauty was among critics' favorite films of 2013 (with many naming it to their year-end top 10 lists), but the critics' choice is rarely the winner in this category. The Missing Picture is just the second documentary ever nominated in this category, and is Cambodia's first Oscar nomination. Note that Blue Is the Warmest Color, the film that has been dominating this category on the awards circuit, was not eligible for the Oscar, having just missed the cut-off date for release in its home country by a week.
Short subjects
Animated Short
Feral
Daniel Sousa and Dan Golden
Get a Horse!
Lauren MacMullan and Dorothy McKim
Mr. Hublot
Laurent Witz and Alexandre Espigares
Possessions
Shuhei Morita
Room on the Broom
Max Lang and Jan Lachauer
Documentary Short
CaveDigger
Jeffrey Karoff
Facing Fear
Jason Cohen
Karama Has No Walls
Sara Ishaq
The Lady in Number 6: Music Saved My Life
Malcolm Clarke and Nicholas Reed
Prison Terminal: The Last Days of Private Jack Hall
Edgar Barens
Live-Action Short
Aquel No Era Yo (That Wasn't Me)
Esteban Crespo
Avant Que De Tout Perdre (Just Before Losing Everything)
Xavier Legrand and Alexandre Gavras
Helium
Anders Walter and Kim Magnusson
Pitääkö Mun Kaikki Hoitaa? (Do I Have to Take Care of Everything?)
Selma Vilhunen and Kirsikka Saari
The Voorman Problem
Mark Gill and Baldwin Li
These are the categories that have ruined many an office pool. There's one favorite we can report, however: Disney's inventive Get a Horse!, the first animated Mickey Mouse short in nearly two decades (and featuring archival recordings of Walt Disney himself providing Mickey's voice), has a lot of fans.
Music
Another year, another John Williams nomination: this is his 49th to date (over twice as many as the next highest total among living people), though he hasn't won since 1993. Thomas Newman is no stranger here either; this is his 12th career nomination. Her composer William Butler (teaming with fellow Canadian musician Owen Pallett), by the way, is a member of Arcade Fire.
Original Song
"Alone Yet Not Alone"
by Bruce Broughton, Dennis Spiegel
Alone Yet Not Alone
"Happy"
by Pharrell Williams
Despicable Me 2
"Let It Go"
by Kristen Anderson-Lopez and Robert Lopez
Frozen
"The Moon Song"
by Karen O, Spike Jonze
Her
"Ordinary Love"
by Paul Hewson, Dave Evans, Adam Clayton and Larry Mullen
Mandela: Long Walk to Freedom
U2's "Ordinary Love" has the momentum here, having just picked up the Golden Globe days ago. This is one category where the omission of Inside Llewyn Davis was expected, as that film's original song was not eligible (the Academy having a somewhat unconventional definition of "original"). Never heard of the film Alone Yet Not Alone? You're not ... alone.
Technical categories
Le Sourd is a surprise nomination here, with little recognition in previous awards this year. Missing are Sean Bobbitt (12 Years a Slave) and (though always a longshot) Hoyte Van Hoytema (Her). If you've seen Gravity, you'll understand why Lubezki is the favorite. He has been nominated five times previously, but has never won the Oscar.
We know what you're thinking: "Jackass Presents: Bad Grandpa? What an obvious Academy Award nominee." Actually, you're thinking, "Am I an idiot if I don't pick Gravity to win the visual effects award in my Oscar pool?" Yes, yes you are.
More coverage to come
Ellen DeGeneres will make her second appearance as Oscar host when the 86th Annual Academy Awards ceremony airs live on ABC on Sunday, March 2nd at 7:00p ET / 4:00p PT. As we do each year, in the weeks prior to the big day, we'll give you a chance to predict this year's winners, and then we'll compare your picks to those of dozens of critics and industry experts.
In the meantime, what do you think of this year's nominations? What did the Academy get right, and what did they overlook? Let us know in the comments section below, and be sure to check out our 2013 Film Awards Scorecard to see how the Academy's choices compare to all of the other movie awards handed out over the past few months.