The results of our fourth annual user poll are in ...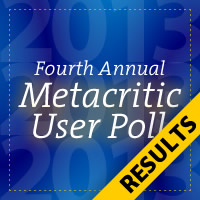 For the fourth straight year, we asked our users to rank their favorite TV shows, movies, games, albums, and songs of the past 12 months. We received over 2,300 responses (the most yet), and the results are listed below.
Note that participants listed their five favorite titles of 2013 in each category, and we assigned a value of 5 points to each first-place vote, 4 points for second place, and so on down to 1 point for each fifth-place vote. We also asked our users to name the single most "overrated" release of the year in each category, and those "winners"—determined solely by the number of votes received, rather than points—are also listed below in each section.
Movies
Though their order was reversed, the year's two highest-scoring films with critics were also the top two vote-getters with Metacritic users. Alfonso Cuaron's Gravity was the runaway winner, collecting more than twice as many points as the next highest movie, which was 12 Years a Slave (2013's highest-scoring film with critics). In fact, the five highest-scoring wide releases finished within the top seven with users, including Spike Jonze's Her, which placed seventh despite screening in just a handful of theaters so far; that film opens nationwide on Friday.
A look at film critics' year-end top 10 lists reveals that critics and Metacritic users were on the same page with many of 2013's best films, with seven common films in each group's cumulative top 10. Users liked The Hunger Games: Catching Fire, The Hobbit: The Desolation of Smaug, and Machete Kills more than critics did; none of the three finished in the critics' top 30, and the latter film received poor reviews when it originally opened. Critic favorites that failed to rank as highly with users include the documentary The Act of Killing, French import Blue Is the Warmest Color (#9 with critics, #15 with users), and Alexander Payne's Nebraska.
Games
Grand Theft Auto V, Metacritic's official game of the year for 2013 and the #8 highest-scoring game of all time, was a hit with users as well, though not as much as the PlayStation 3 exclusive title The Last of Us, a new IP from Uncharted studio Naughty Dog. Nintendo 3DS owners seemed to have voted with regularity, as three exclusive titles for that handheld platform landed in the overall top 10. PC gamers also showed love for a variety of indie releases, including The Stanley Parable, Gone Home, and Papers, Please.
And, while the fourth Assassin's Creed title placed higher with users than the previous installment did in last year's poll (at #5 compared to #8 last year), other franchises lost some support this year. Batman: Arkham Origins finished at #13 with users while its predecessor (Arkham City) place second in 2011. And this year's Call of Duty title, Ghosts, barely charted at all; the three previous CoD games each finished in the top 10 in our year-end user survey.
Best Video Game of 2013 as Voted by Metacritic Users
Game
Points
1
The Last of Us
PS3

95

3,007
2
Grand Theft Auto V
360

97

/ PS3

97

2,654
3
BioShock Infinite
360

93

/ PC

94

/ PS3

94

2,203
4
Tomb Raider
360

86

/ PC

86

/ PS3

87

675
5
Assassin's Creed IV: Black Flag
360

86

/ PC

85

/ PS3

88

/ PS4

83

546
6
Super Mario 3D World
Wii U

93

527
7
Pokemon X/Y
3DS

87

(X) / 3DS

88

(Y)
377
8
The Legend of Zelda: A Link Between Worlds
3DS

91

344
9
Battlefield 4
360

79

/ PC

81

/ PS3

80

/ PS4

86

255
10
Fire Emblem: Awakening
3DS

92

224
11
The Stanley Parable
PC

88

221
12
Gone Home
PC

86

177
13
Batman: Arkham Origins
360

74

/ PC

74

/ PS3

76

174
14
Rayman Legends
360

90

/ PC

89

/ PS3

91

/ Wii U

92

157
15
FIFA 14
360

84

/ PC

87

/ PS3

86

/ PS4

87

/ XB1

89

155
16
Ni no Kuni: Wrath of the White Witch
PS3

85

152
17
Metro: Last Light
360

80

/ PC

82

/ PS3

80

129
18
Call Of Duty: Ghosts
360

73

/ PC

68

/ PS3

71

/ PS4

78

/ XB1

78

128
19
Papers, Please
PC

85

123
20
The Wolf Among Us [Ep. 1]
360

82

/ PC

85

/ PS3

86

118
TV shows
For the second straight year, Breaking Bad is the runaway winner in our user balloting, much as it was in our survey of TV critic top 10 lists. Last year, the show was named on 63% of all ballots cast by users; this year, that percentage was up to 67%. (Yes, somehow one in every three users didn't vote for Breaking Bad at all, which helps explain how the show also finished second in the "most overrated" category).
The overlap between users' cumulative top 10 and critics' 10 favorite programs of 2013 was six shows. The Americans, Enlightened, Masters of Sex, and The Good Wife all scored higher with critics than users, while users favored The Walking Dead, American Horror Story, Parks and Rec, and Homeland. (Of those last four, all but Homeland landed in the critics' top 20, however).
Music
Lady Gaga fans voted enthusiastically in this year's user survey, not only placing the pop star's ARTPOP in the #1 position in the album rankings, but also landing three tracks from the album among the top six in the best song rankings. Kanye West's Yeezus, the favorite among music critics making year-end lists, was second with users, and also landed three tracks on the top songs chart. Meanwhile, Metacritic's highest-scoring album of 2013—Sunbather by Deafheaven—finished at #12 in user balloting.
Most Overrated Album of 2013 as Voted by Metacritic Users
Album/Artist
Mentions
1

84

Yeezus by Kanye West
276
2

86

Beyoncé by Beyoncé
75
3

61

Prism by Katy Perry
71
4

87

Random Access Memories by Daft Punk
63
5

61

Bangerz by Miley Cyrus
57
Best Song of 2013 as Voted by Metacritic Users
Song/Artist
Listen
Points
1
"Applause" by Lady Gaga
from the album ARTPOP
Spotify
4,079
2
"Do What U Want" by Lady Gaga ft. R. Kelly
from the album ARTPOP
Spotify
3,532
3
"Get Lucky" by Daft Punk
from the album Random Access Memories
Spotify
759
4
"New Slaves" by Kanye West
from the album Yeezus
Spotify
542
5
"Black Skinhead" by Kanye West
from the album Yeezus
Spotify
524
6
"Venus" by Lady Gaga
from the album ARTPOP
Spotify
454
7
"Royals" by Lorde
from the album Pure Heroine
Spotify
410
8
"Reflektor" by Arcade Fire
from the album Reflektor
Spotify
359
9
"Blood on the Leaves" by Kanye West
from the album Yeezus
Spotify
326
10
"Mirrors" by Justin Timberlake
from the album The 20/20 Experience
Spotify
220
How did you do?
What do you think of the consensus picks of your fellow users? Let us know in the comments section below, and don't forget to check out our Best of 2013 section for all of our year-end lists and reports.