Publisher:

Nintendo

Release Date:

Nov 16, 2018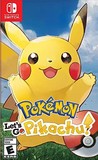 Summary:

Catch Pokémon Like Never Before. The Poké Ball Plus is a Poké Ball-shaped device that can be used to play Pokémon: Let's Go, Pikachu! and Pokémon: Let's Go, Eevee! in place of your Joy-Con. You'll be able to throw Poké Balls in-game with a flick of your wrist! In addition to motion controls,

Catch Pokémon Like Never Before. The Poké Ball Plus is a Poké Ball-shaped device that can be used to play Pokémon: Let's Go, Pikachu! and Pokémon: Let's Go, Eevee! in place of your Joy-Con. You'll be able to throw Poké Balls in-game with a flick of your wrist! In addition to motion controls, the device lights up with a variety of colors, vibrates, and plays sounds. With the Poké Ball Plus, you can also take one of your favorite Pokémon from these games for a stroll as you go about your daily life in the real world. The Poké Ball Plus even works as a Pokémon GO Plus when playing Pokémon GO.

Pikachu or Eevee:
Which Will You Choose?

Pokémon: Let's Go, Pikachu! and Pokémon: Let's Go, Eevee! bring the experience of a classic Pokémon RPG to Nintendo Switch with gameplay that is easily approachable for newcomers to the series, but is also deep enough to keep veteran Trainers on their toes.

The games also have two-player simultaneous play, so you can take the journey with a friend! And there's a deep connection between Pokémon: Let's Go, Pikachu! and Pokémon: Let's Go, Eevee! and Pokémon GO, so fans of the hit mobile game will find even more to enjoy.

…

Expand
Developer:

Game Freak

Genre(s):

Action RPG

,

Role-Playing

,

Trainer

# of players:

Online Multiplayer

Cheats:

On GameFAQs

Rating:

E
Please enter your birth date to watch this video:
You are not allowed to view this material at this time.
Pokémon: Let's Go, Pikachu! And Let's Go, Eevee! - Personalize Your Adventure Trailer
Pokemon Let's Go is a superb surprise, a fully-fledged Pokemon RPG with interactivity that brings the series to life in a way that's never been done before.

In spite of the fact that the expectations weren't high after the first trailers, Pokémon: Let's Go is able to result, not only in a really good remake of Pokémon Red/Green, but in the biggest step forward in the franchise. Definitely one of the biggest and greatest surprises of 2018.

And for serial veterans? For the first time, they get a really lively Pokémon world, where it crawls and crawls everywhere, and where every detail hides a detail that warms the heart.

Somewhere in the middle between a regular Pokémon episode and an entry-level spin-off, Pokémon Let's Go manages to entertain both the seasoned player and the newcomer. It's easy, OK, but not less fun, and returning to Kanto is a treat.

Game Freak has pulled a Hannah Montana and found the best of both worlds here, solidifiying an experience that embraces newcomers without forgetting the hardcore that will be itching to dive in. Acting as what is essentially a remake of Pokémon Red, Blue and Yellow prevents this from being truly groundbreaking, but the foundations established here spell an exciting future for Pokémon on Switch.

Pokémon: Let's Go's nostalgic charm and interactive gameplay will have both newcomers and returning trainers hooked as they explore the beloved Kanto region. Let's Go mashes together these two different styles of Pokémon game into one streamlined format, and despite some slight annoyances, these remakes provide an intimate take on the classic Pokémon journey, especially when played with the Poké Ball Plus accessory. If you're looking for a refreshing take on the Pokémon RPG, then this one may keep you invested until you catch 'em all. It probably won't take long though.

Let's Go, Pikachu! and Let's Go, Eevee! represent a different line in the Pokémon series. Reflecting a more accessible take, these two games make the experience more open to new players, while keeping several nostalgic and legacy factors intact for seasoned veterans. While not all is a resounding success, namely when it comes to its limited online component, uninteresting motion controls and an overall level of challenge that is below expectations, some of the games' new elements are more than likely to bring a fun, enjoyable time to players of all backgrounds.
Un muy buen remake de Pokemon Amarillo. No es excelente pero es un buen comienzo para Pokemon en la Nintendo Switch, la dificultad es

Un muy buen remake de Pokemon Amarillo. No es excelente pero es un buen comienzo para Pokemon en la Nintendo Switch, la dificultad es demasiado baja en un comienzo, pero va incrementando conforme se avanza. Lastimosamente este juego ha sufrido de críticas de "fans", a quienes aconsejaría relajarse un poco con este título y disfrutarlo. Veo las mecánicas de gimnasios y de captura muy positivas.

…

Expand

Don't listen to all the negative reviews people. They are either 4 Chan or people hurt about Blizzard making a mobile Diablo game. The game is

Don't listen to all the negative reviews people. They are either 4 Chan or people hurt about Blizzard making a mobile Diablo game. The game is actually really good. It gives young child a chance to enjoy the original Pokémon games. It also gives a nice spin on the games, i. e. Riding on any Pokémon that is big enough, avoiding the annoying Zubats in caves, and having your starter on your head.

…

Expand

This is the BEST Pokemon game in years. It looks super clean, is a nice throwback to the old days and has plenty to do for the avid pokemon

This is the BEST Pokemon game in years. It looks super clean, is a nice throwback to the old days and has plenty to do for the avid pokemon fan. Ofcourse smogon players aren't real pokemon fans so they'll just bash this game, while its actually one of the best iterations in the franchise! I can recommend it to anyone who loves pokemon:)

…

Expand

At first, I was excitied when Nintendo announced Pokemon: Let's Go Pikachu/Eevee but after seeing more and more gameplay, I started to lose

At first, I was excitied when Nintendo announced Pokemon: Let's Go Pikachu/Eevee but after seeing more and more gameplay, I started to lose interest in it that I cancelled my preorder for it. No wild battle catching mechanics, no EV Training, no breeding, no nature, no abilities. To me, it's not a remake but more of a downgrade to Pokemon Yellow. Plus, the game seems like it isn't challenging enough. It's just seem too easy, like it's holding your hand and repetitive. Graphics wasn't much of an improvement and the camera angles haven't changed. The overall world hasn't changed either. No new places to explore and you have to continuously catch pokemon in order to level up your pokemon team. I'm a HUGE Pokemon fan but personally, this game isn't something I would buy $60 for. I bought instead Pokemon X, Omega Ruby and Ultra Sun.

…

Expand

Perfect remake. Game runs smooth, is incredibly pretty. The new systems like catching wild Pokemon in stead of fighting and them catching them

Perfect remake. Game runs smooth, is incredibly pretty. The new systems like catching wild Pokemon in stead of fighting and them catching them is a welcome addition to the series. I hope they keep most of the new systems for the new *full* Pokemon games coming out for switch later on. Wholeheartedly recommend it if you like Pokemon.

…

Expand

horrible game this is a trash for pokemon this game is a jokey for the others game with pokemon

Pokémon GO: Console Edition. Easier, simpler, tasteless.
No abilities. No day/night cycle. No weather. No fishing. No breeding. No end-game.Pokémon GO: Console Edition. Easier, simpler, tasteless.
No abilities. No day/night cycle. No weather. No fishing. No breeding. No end-game.
Nice graphics and such things are not enough.

…

Expand