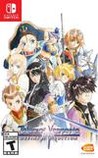 Summary:

Tales of Vesperia: Definitive Edition celebrates the 10th anniversary of this RPG with new fully playable characters, events and other additional content never released outside of Japan. Follow Yuri Lowell, a former Imperial Knight, as he befriends a colorful cast of characters throughout

Tales of Vesperia: Definitive Edition celebrates the 10th anniversary of this RPG with new fully playable characters, events and other additional content never released outside of Japan. Follow Yuri Lowell, a former Imperial Knight, as he befriends a colorful cast of characters throughout the world of Terca Lumireis and finds himself in the middle of a nefarious plot that threatens the destruction of the entire planet.

…

Expand
Developer:

Bandai Namco Games

Genre(s):

Role-Playing

,

Action RPG

# of players:

Online Multiplayer

Cheats:

On GameFAQs

Rating:

T
Please enter your birth date to watch this video:
You are not allowed to view this material at this time.
Tales of Vesperia Definitive Edition Gameplay Reveal Trailer | E3 2018 Press Conference
Tales of Vesperia Definitive Edition is a worthy purchase for anyone that enjoyed the original or simply anyone that enjoys heartfelt, compelling RPGs. There's enough new content — weaved in with remastered visuals and remixed locations — to appease even the most stingy of Remaster skeptics out there.

Vesperia is one of the best games in the 'Tales of' series (maybe even THE best) and justice has been made after 10 long years: being able to enjoy Yuri's story, in the most complete version of the game and (finally!) translated to Spanish, it's the best gift to begin the year.

Minor blemishes aside, Tales of Vesperia: Definitive Edition lives up to its namesake and is still among the best Tales of games ever.

It's a huge relief to find that Tales of Vesperia hasn't just aged well, but continues to prove itself to be amongst the best games in the Tales series. The enhancements made to the Definitive Edition tidy up and expand on an already enjoyable game, bringing the characters to life more effectively than ever before and making it more than capable of enthralling both returning players and newcomers alike.

Tales of Vesperia: Definitive Edition its a great opportunity to play and enjoy, one more time (o even for the firts time), one of the mos beloved JRPG games in history. Albeit its not perfect and many of its flaws have gotten more obvious with the pass of the years, its a huge game with the enough charm and content to maintain any gamer busy and enjoying for a long time.

From a technical point of view, it's not a huge evolution, but it is a great opportunity to enjoy an excellent JRPG.

It isn't a fantastic experience but hopefully post launch patches improve the visuals and the framerate. If you want to play this docked, get it on another platform.
The long awaited Complete Version of Tales of Vesperia!
It feel SO GOOD to finally have a lot of costumes to unlock, finally a lots ofThe long awaited Complete Version of Tales of Vesperia!
It feel SO GOOD to finally have a lot of costumes to unlock, finally a lots of sidequest to find out when you replay, finally a lots of optional content and bosses. I feel like this game gave me everything I wanted "more of" tales of symphonia.

The characters are overall pretty good, Yuri put a great dynamic with the team and each character feel very distinct.

Battle Wise the game is more clunky in first few hours than most tales of, but open up much more in the end, which gives a fantastic sense of progression through the game and in the challenge keeps up, to max level in the endgame challenges. Add to that 9 playable characters and you have the most diverse cast and a lot to learn if you want to vary your play style.

Story wise it's pretty simple, it's mostly about people figure it out and an adventure in the classic sense, it wasn't as groundbreaking as other tales of, but servicable.

As most tales of you can still have fantastic couch multiplayer, expect great replayability from the NG+, unlocked difficulties, numerous Ex dungeons, and a lots of things to unlock.

If for some reason you don't like anime or JRPG in general, just pass on this game, for the other just buy it.

…

Expand