Network:

Showtime

Series Premiere Date:

Nov 18, 2018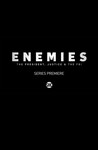 Summary:

Inspired by Tim Weiner's book Enemies: A History of the FBI, the four-part documentary from Alex Gibney focuses on the history of conflicts between the FBI and presidents over the years including Herbert Hoover, Richard Nixon and Donald Trump.
Show Type:

Mini-Series

Season 1 premiere date:

Nov 18, 2018

Episode Length:

60
It's punchy and to the point. In the historical episodes, it has some of the style and entertainment value of a breezier series on basic cable.

Little or nothing new is being reported or revealed. It's contextualizing and formulating an argument slightly in advance of what we anticipate will be a historical moment. The chances that the next month will require a new ending are low. The chances it will require an aggressive adjustment of focus are high. I can tell you that so far it's interesting, but not if it's worth it.

Enemies delivers a reminder -- again, not subtle in its intent -- that executive authority has repeatedly tested constitutional boundaries, moments that call upon the justice system to step forward and safeguard democratic ideals.

Six years later, rather a lot has changed, to the point where the series often seems to be lionizing the bureau—and especially its former director, Robert Mueller—as the last front standing between the United States and total authoritarianism. It's an awkward dance for the series to follow, even if it happens to be true. There's very little in Enemies that's new, and yet it's still striking to see how repackaging the past can shed light on the present.