Network:

Netflix

Series Premiere Date:

Nov 16, 2018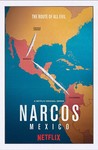 Summary:

The companion series to Narcos focuses on the rise of Guadalajara Cartel as Félix Gallardo (Diego Luna) takes charge while newly posted DEA agent Kiki Camarena (Michael Pena) begins uncovering information about Felix's plans.

Genre(s):

Drama

,

Action & Adventure
Season 1 premiere date:

Nov 16, 2018

Episode Length:

60
Sweeping in scope, the series remains as addictive as ever in chronicling the bleak history of the drug war, delivering a drama so crisp and smartly executed as to provide its own kind of high.

The result is a season that, through its first five episodes, makes enough of its fresh faces and characters to avoid boredom and yet is still resolutely and successfully Narcos in its DNA.

Ultimately, though the episodes are lengthy (each lasting at least a full hour), the pacing is taught; historically we may know the outcome, but there is enough charm and uncertainty to the way Narcos: Mexico crafts its story to keep things consistently interesting and compelling.

It hard to "just say no" to this absorbing series. [26 Nov - 9 Dec 2018, p.9]

Narcos: Mexico will keep you guessing--and watching. With his fierce dark eyes and focused intensity, Pena is an excellent choice to play the intrepid Kiki, whose trajectory kicks off the modern-day drug war between Mexico and the US. As Gallardo, the slightly built Mexican actor Diego Luna has an entirely different vibe than the imposing Moura.

It's really Luna and Peña's show, and even though they very rarely share the screen together, the pairing makes for a dynamic one. ... The actors do what they can with the tropes they're handed, but Narcos is not the show to watch if you're looking for female characters with any real agency.

Both Peña (crisp, lean, and authoritative), and Luna are fine actors, of course. But the Narcos formula hems them both in here, leaving them playing men either too one-note in the perpetually pissed-off Kiki's case, or wanly inconsistent in Félix's. ... As ever, the narration fills in the gaps and drops klutzy exposition with seen-it-all, wiseass gringo perspective. It helps that, in Narcos: Mexico, it's the effortlessly charismatic Scoot McNairy.
This isn't one of those shows where you have to root for the "least bad" character because pretty much everyone is amoral and evil. The

This isn't one of those shows where you have to root for the "least bad" character because pretty much everyone is amoral and evil. The excellent Michael Pena, playing an actual DEA agent, gives you a guy with guts and heart -- although some of the bad guys are equally interesting. "Narcos: Mexico" might have special resonance for those who remember "Just say no" but never gave much thought to where the weed they smoked in college came from. First-rate cynical storytelling with the ring of truth. Diego Luna is the only weak link -- wearing the same furrowed-brow scowl in every scene.

…

Expand

Narcos is absolutely one of the best original series of Netflix! ..and DON'T TALK ABOUT EPISODE 5

as good as the previous seasons, binged it in one day, astounding how they can keep this level, there are not many tv shows as good as this

A very interesting season and in line with the Narcos series as a whole. However, Miguel Felix Gallardo isn't a particular interesting

A very interesting season and in line with the Narcos series as a whole. However, Miguel Felix Gallardo isn't a particular interesting opposite compared to the Medellin or Cali cartel. He is a very precise and effective man, until he ruins it for everyone by diving into the coke business, casting out his own wife and not managing the members of the cartel very well. Considering this is based on real events it obviously gives context.

And judging by the inclusion of El Chapo we all know what's in store next, so i'm ready for it.

…

Expand

Is there life after Pablo Escobar? Netflix believes so as Narcos the popular drug drama that began with Escobar in Columbia now focuses on

Is there life after Pablo Escobar? Netflix believes so as Narcos the popular drug drama that began with Escobar in Columbia now focuses on the drug game south of the American border namely Mexico.

Head honcho, Felix Gallardo a former cop from Sinaloa decides that it would be wiser to move the Sinaloa operation to Guadalajara, Mexico. Therein does this installment of the series begin, the setting is the 1980's. The first episode also includes the newly formed DEA (The Drug Enforcement Agency) which focuses upon DEA agent Kiki Camarena, who decides wife and family will move to Guadalajara to work with DEA agents there.

The first episode is slow going but as things pick up the show pays off in a good way. Camarena comes off as a bit of a Rube as Michael Pena and crew go to great lengths to unburden themselves about the corruption of Mexican political officials and cops who seemingly all take bribes from the drug kingpins.

The illegal side of things is much more lively as the 'narcos' do cocaine frequently and smoke ganja all throughout the episodes. Head honcho Gallardo is seemingly as straight as you can get. He is portrayed by Diego Luna as more of a business man rather than a major drug lord. I was finding it difficult to place his prowess, although he is surely pliable as he gets out of scrape after scrape.

Michael Pena is Kiki Camarena but I felt he was a bit too strident to play the agent, a bit too "I'm an American". Camarena feels 'gung-ho' in the show and seems to be wrapped up into his job a bit too much. Subtle he is not. Yet he is well remembered is all I can say.

7.8 Out Of 10

Narcos Mexico produces solid drama for a continuation into the drug culture that shadows our own. Tragic and rather cold nothing beats drug drama except for comic book movies. If you enjoyed Narcos then you'd do well to see this one, a new season is coming soon to Narcos Mexico, look for it.

#CLAYSMOVIEREVIEWS #movie #movies #film #films
#cinema #instamovie #instamovies
#moviefan #moviereview #review
#critic #filmcritic #critical #moviecritic
#rated #cinema #reviews #moviereviews
#NARCOSMEXICO #NETFLIX

…

Expand

It's good. Not as good as the original, but still very watchable.

Too much of it is in Spanish. I know that's kind of to be expected, butIt's good. Not as good as the original, but still very watchable.

Too much of it is in Spanish. I know that's kind of to be expected, but all the subtle nuances in the way the actors speak are lost on someone who isn't fluent. It's a shame.

At times it's obviously taking some extreme liberties in how it dramatizes events, but I suppose that's better than being boring.

…

Expand

Hold on, not a hope this show is as good as the previous Narcos, I am finding the whole thing a bit of a grind and not one bit enjoyable. Each

Hold on, not a hope this show is as good as the previous Narcos, I am finding the whole thing a bit of a grind and not one bit enjoyable. Each to their own but this is nowhere near a 10/10 show.

…

Expand