Network:

Prime Video

Series Premiere Date:

Dec 21, 2018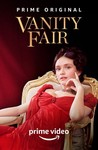 Summary:

Gwyneth Hughes' adaptation of the classic novel by Thackeray William Makepeace follows Becky Sharp (Olivia Cooke) as she makes her way from her pennilessness status to the court of King George IV.

Genre(s):

Comedy

,

Drama

,

Movie/Mini-Series
Show Type:

Mini-Series

Season 1 premiere date:

Dec 21, 2018

Episode Length:

60
It's well-acted all around and paced briskly enough to take up seven hours without filler. There's nothing particularly ingenious about it; but there's no looking down on a good story smartly told.

Olivia Cooke vibrantly inhabits what little soul the ruthlessly opportunistic Becky Sharp possesses in this irreverent seven-part adaptation of the Thackeray classic. [10 - 23 Dec 2018, p.9]

Much of the show is a conscious bowdlerization of the epic Thackeray novel. What is lost in the wry and fat prose, the skewering of petty gnat-sized gentry, is regained in the lean performances of the perpetually suffering actors, especially Cooke's Becky Sharp.

No teeth, no energy, no fun, this Vanity Fair can occasionally feel like a homework assignment.

Ms. Cooke is a force; her naughty glances into the camera establish her not only as a heroine but our co-conspirator. And for all the directorial dead air, the story structure keeps things fairly fresh, populating Becky's changing situations with a revolving cast of characters.

A respectful and fundamentally simple reading of the novel. Even stretched to seven episodes, it moves fast and hits some of the right notes. Mostly it offers a juicy, well-played role for leading lady Olivia Cooke. ... She becomes less and less convincing as time passes in the show and also as the narrative darkens and the adaptation can't quite bring itself to pass judgement on anything Becky does.

It's neither terrible nor amazing, but at the very least, it's efficient.